Check and organize photos and videos.
Operation is simple and comfortable,
and a wide range of formats can be previewed.
The best media player
supports numerous image,
video and audio formats.
Mync is a powerful media player that supports a wide range of formats for image, video and audio files. You can freely customize the workspace. Thumbnail, detail and preview displays can be easily turned on and off, allowing you to view photos and videos in ways that suit your current needs. This really will be the best media player for every user. Since it also supports touchscreen computers, you can operate it intuitively without hesitation.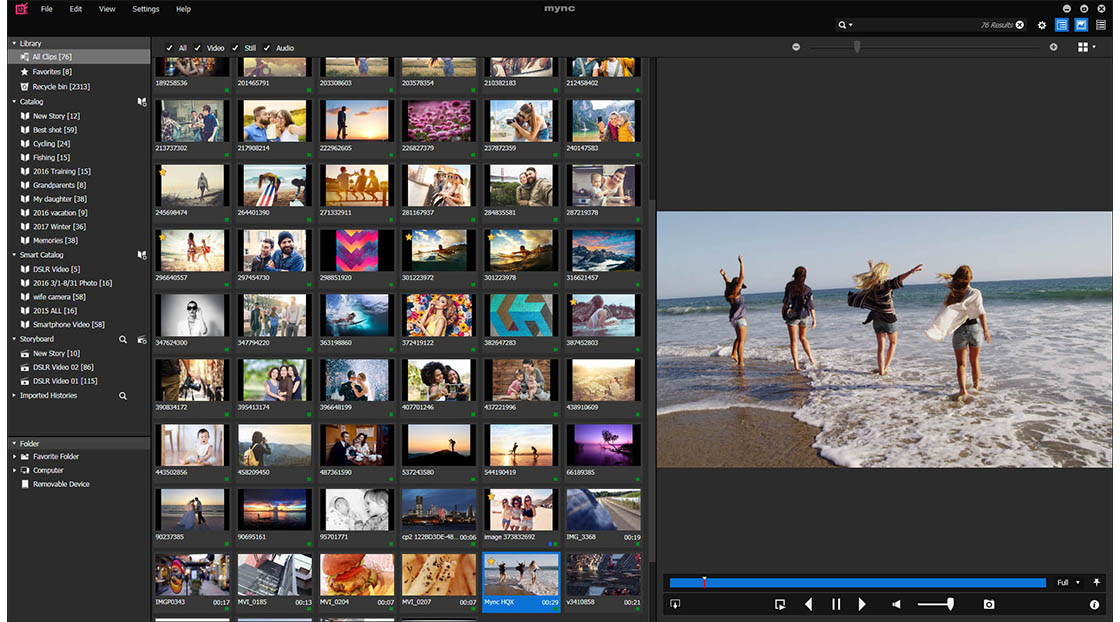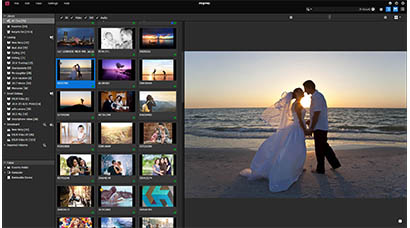 By viewing thumbnails and previews simultaneously, you can easily check contents. Of course, along with image files, video and audio files are also supported.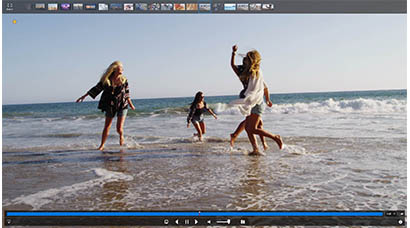 Instant full-screen display is also possible. This function is especially pleasing when checking videos. By selecting the thumbnails at the top, you can check other files while staying in full screen.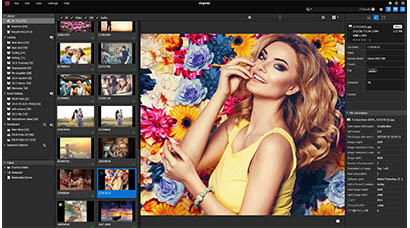 Another mode shows detailed information about the image in a third column. From left to right, you can check thumbnails, previews and detailed file information at the same time and even add metadata.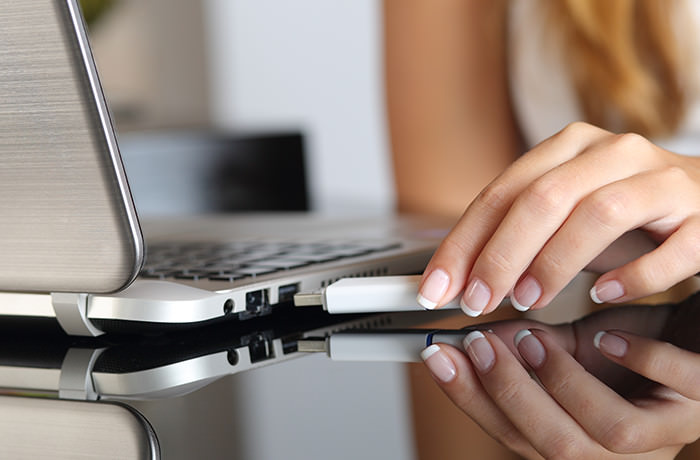 In addition to files on computer hard disks,
the application also supports loading directly from devices.
You can load source files from smartphones, USB flash drives, memory cards and cameras connected to the computer. There is no extra hassle of first copying files to the computer before loading them into Mync. By loading images to Mync from a camera immediately after they are taken, you can check and organize them right away, as well as make reassuring backups of your data.
Use the catalog functions to organize your files.
The work of finding necessary files from huge amounts of source data takes a really long time. Use the Catalog and Smart Catalog functions to rapidly reach the materials you want from an organized archive that can include not only local disks but also multiple external hard disks as well. These features can make your materials even easier to find.
Along with categorizing files by type as [Video], [Still] and [Audio], you can also quickly categorize source files by their [Frame Size], [Frame Rate], [Tag], [Rating] and other attributes. You can save a combination of these attributes as a Smart Catalog.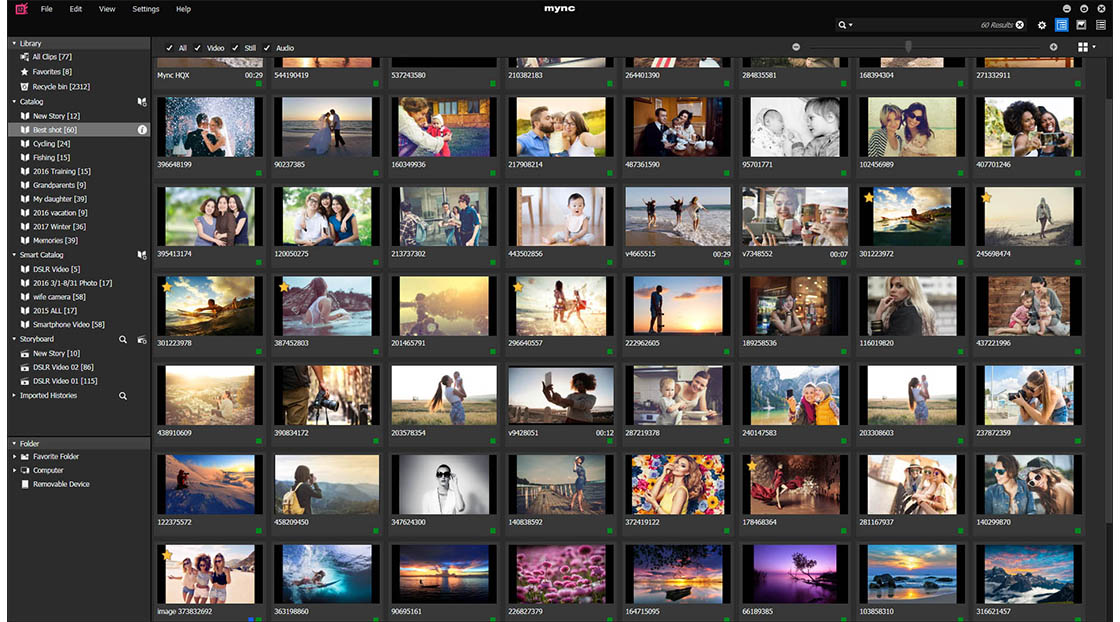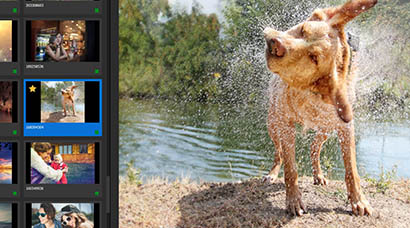 You can also easily add files to your favorites with a single click. You can use these features as you like. For example, you can easily select files that you use frequently or that are necessary for projects that are in progress.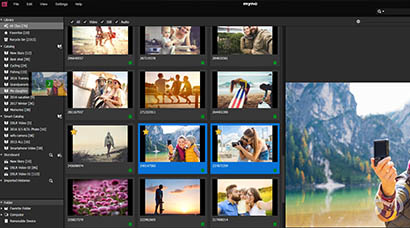 A catalog can be organized as you like by dragging and dropping files that have already been added to the library. This is convenient for keeping separate work projects and travel journals, for example.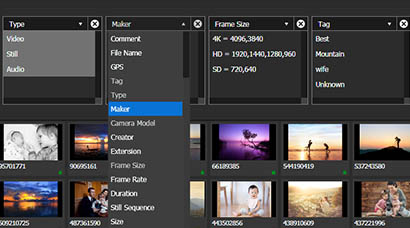 The smart catalog function can narrow and group files using search conditions. Smart catalogs can be saved automatically when materials that meet the conditions exist.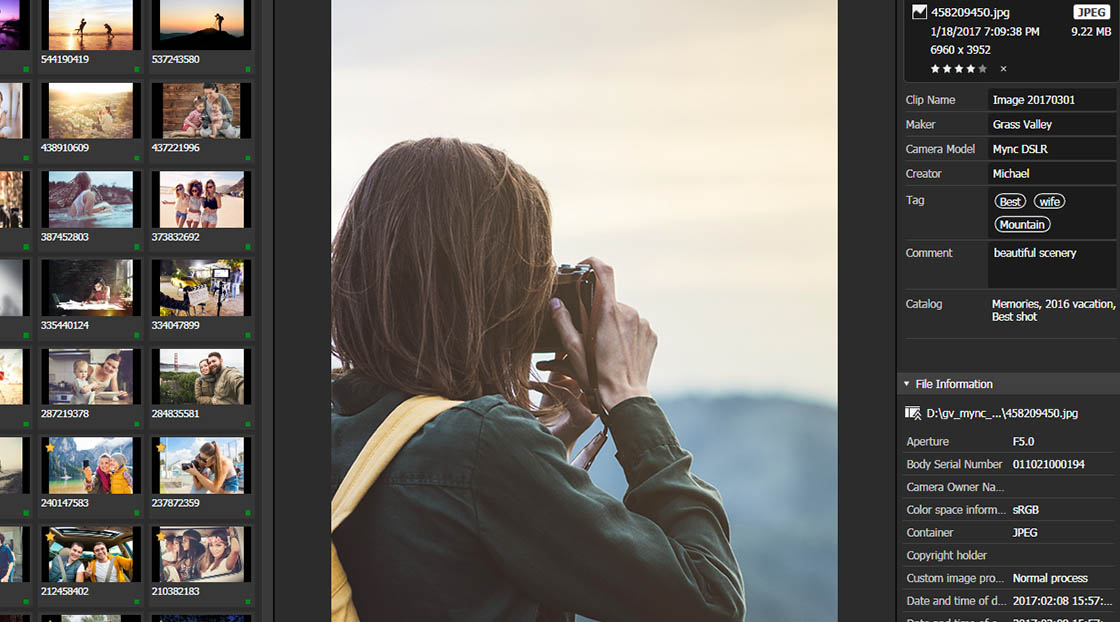 Add tag data to enhance search functions.
Locate the materials you need in an instant.
Mync has been designed to allow you to customize it according to how you want to use it. Particularly when handling great amounts of files, you can add tags as you like, making them searchable with unique search terms. Make your materials easy to find by adding notes about the image subject, adding the name of the cameraperson who took the image and other tag information as you want. When multiple takes have been taken, you can mark better and best takes, for example, using a number of stars (★). With files that contain location information, you can click the map icon in the properties pane to check where the file was taken in Google maps.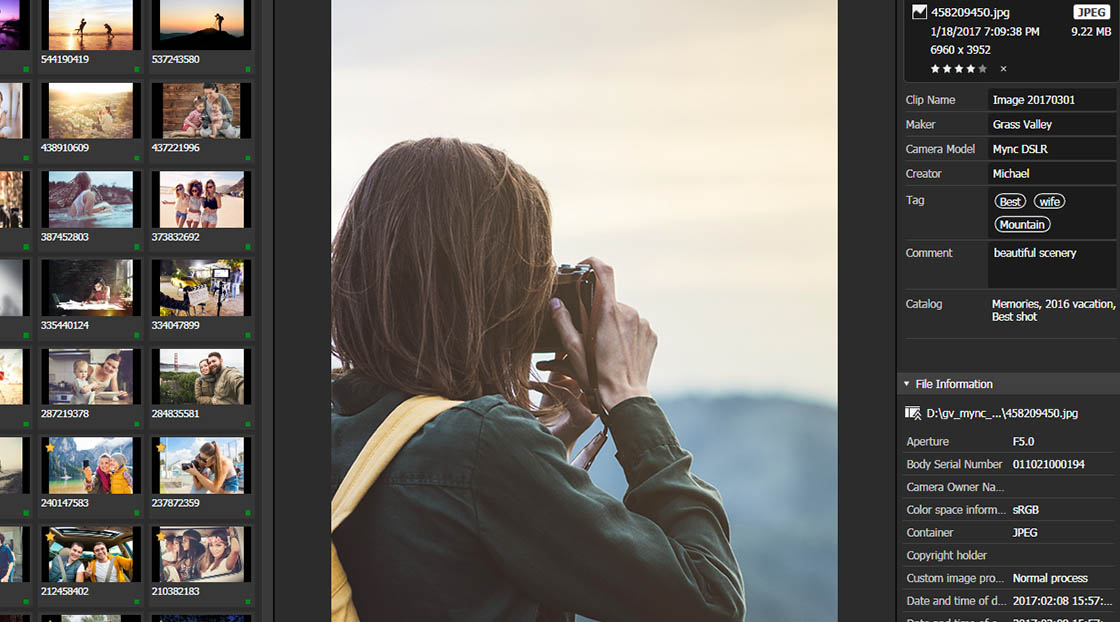 Powerful video management functions
made possible by Grass Valley
Mync is all you need for managing video materials.
Mync has a unique video preview function that is second to none. The powerful video preview function provided is unlike that of any other software. This great feature of Mync is possible because Grass Valley also developed the EDIUS professional video editing software. In addition to the h.264 format that is used widely, including on the Internet and for smartphones, various formats used in professional workplaces are supported. With Mync, unified management is possible for diverse video materials, starting with XDCAM, P2, XAVC and XF-AVC, and including video files that ordinarily could not be checked without launching video editing software. Native data can be previewed without conversion.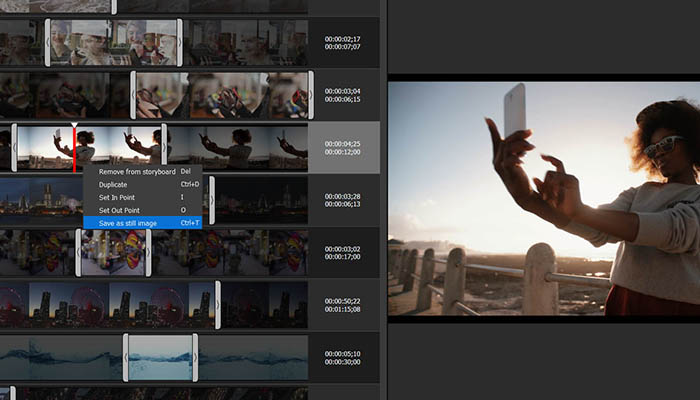 Easily export still images from video files.
Still images can be created from specific video frames without changing the resolution from the original material.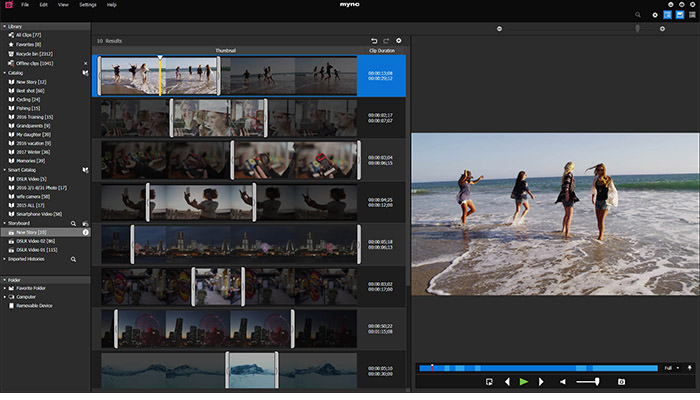 You can edit cuts using multiple video files
with the storyboard function to create movies.
You can put videos that have been added to the library into a new storyboard, just dragging to select when you want to use them. Using intuitive operations, you can create original videos with extreme ease. Of course, mixing video and still images when editing is also possible.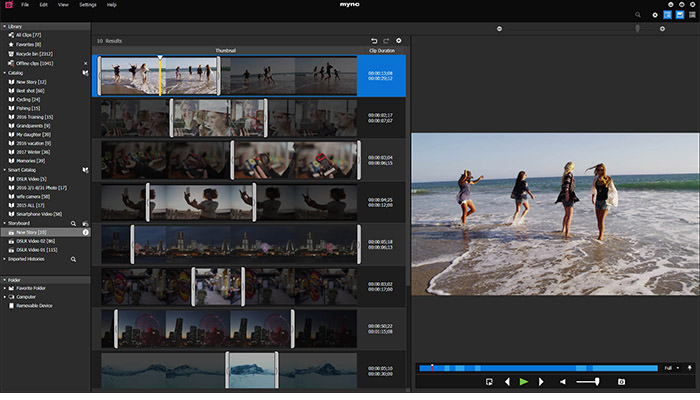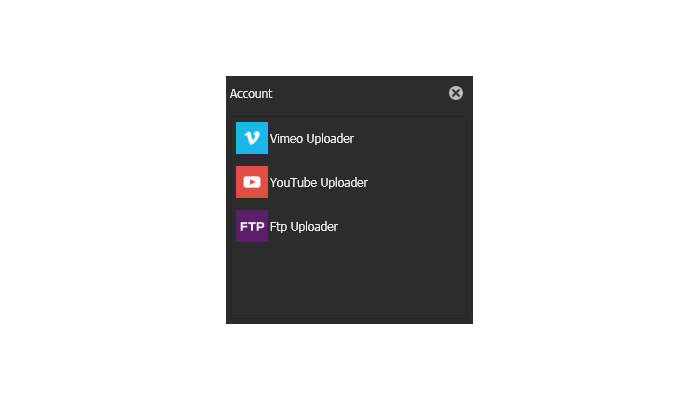 After creating a movie,
outputting and uploading as is to YouTube and Vimeo is also possible.
Using Mync Standard, completed storyboards can be exported as movie files in MP4 (.mp4) format. Moreover, from Mync, you can upload as is to an FTP server, YouTube and Vimeo to share online. Multiple accounts are supported, so after making settings in advance, you can upload right when you want by selecting the necessary account.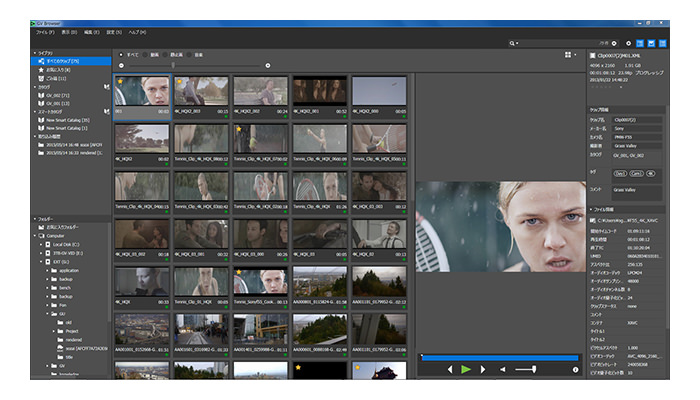 Integration with video editing software
When using Mync Standard, which is included with EDIUS 9 video editing software, you can add Mync catalogs, smart catalogs and storyboards to the bin from within EDIUS. Mync and EDIUS can be integrated seamlessly. Along with this direct integration, you can also output catalogs created in Mync as XML files. First, create a catalog that includes the necessary materials. As the number of files increases, finding the files you need becomes burdensome. Use smart catalogs to search by tag, rating and other refinements. If sources have been loaded from camera recording media or USB flash drives, they will be recorded in [Imported Histories] that you can also use for searching to find them. You can choose [Export XML] to export just an XML file or [Export XML and source files] to create an XML file after copying all the materials in the catalog to one location.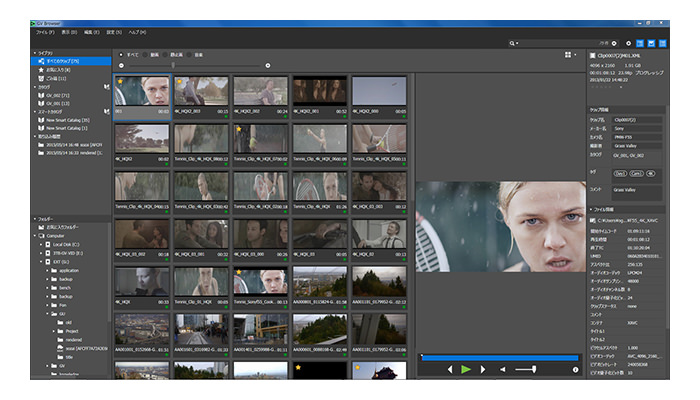 We have prepared two versions of Mync.
The Basic version can be used by a wide range of individual users and the Standard version has advanced functions that enable use even in professional production environments. Please experience the ease-of-use provided by Mync. Mync Standard trial version download start!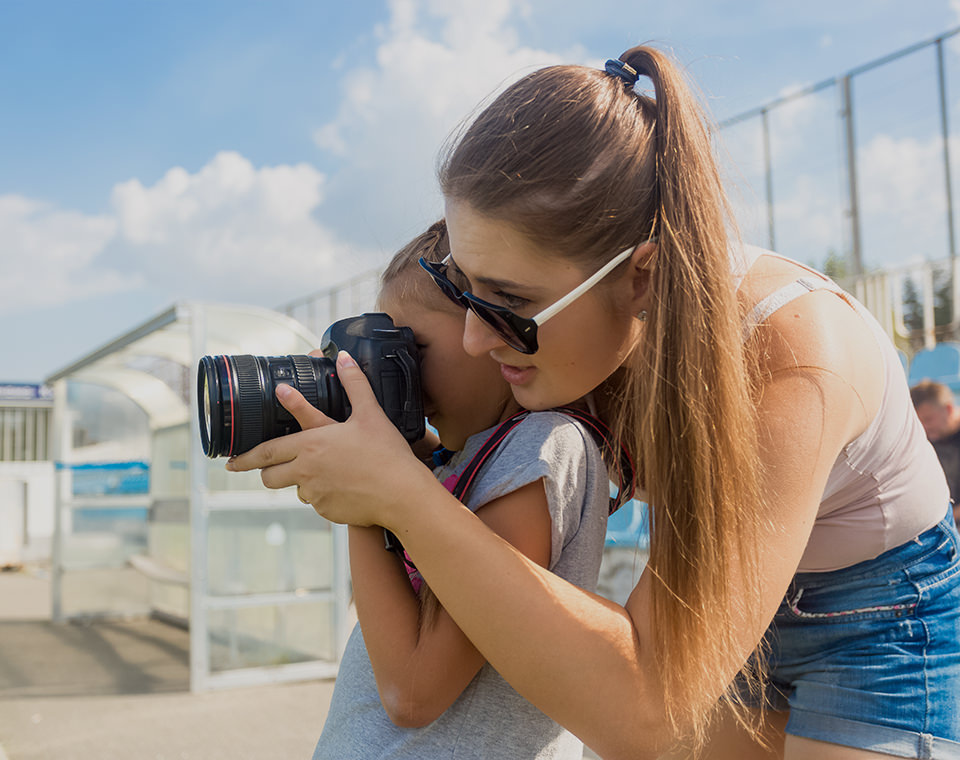 Basic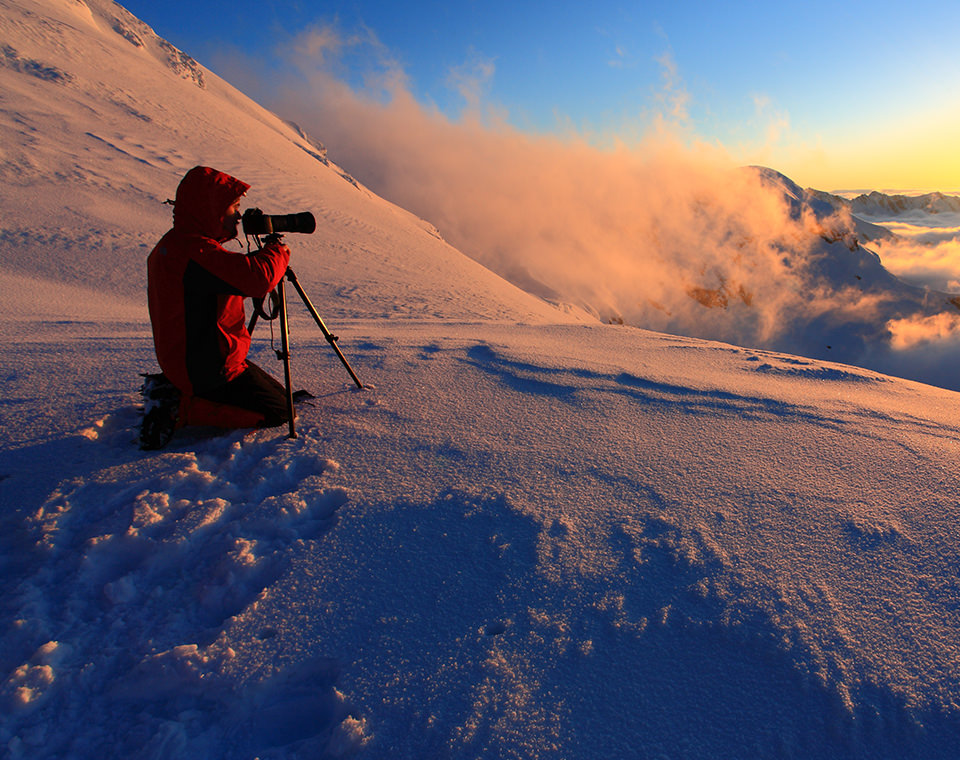 Standard