Download the Basic version free for a limited time!
Standard version at a special price!
until 06 30 2017
Mync Basic
Download and use for free
※Please note no support and services are provided for Mync Basic.
※Changes could be made without notice.
Mync Basic
Download and use for free
Mync Standard
Use for just $49 (not including tax)
Mync is currently deploying on PC version only.
Please download and purchase from the PC.
Operating environment
License
One of the following licenses is required.
・License of Mync Basic or Mync Standard
・License of EDIUS Workgroup 8 or EDIUS Pro 8
OS
Windows 7 64‑bit(Service Pack 1 or later)
Windows 8.1 64‑bit
Windows 10 64‑bit
CPU
Intel Core 2 or Intel Core iX CPU or higher
Intel or AMD single core with a speed of 3 GHz or higher(Multiple CPU or multi-core CPU recommended)
Supports SSSE 3 (Supplemental SSE 3)
Memory
4 GB RAM or more
The minimum configuration of RAM depends on the project.
SD / HD project: 4 GB or more recommended
4K project: 8 GB or more recommended
Other
Regular Internet connection
* Mync and EDIUS software cannot be installed on the same computer
Installation procedures
How to obtain an EDIUS ID
"EDIUS ID is an online ID function that links users with their licenses for the Grass Valley products they own.
When the serial number is first authenticated, it is linked to an EDIUS ID. This makes license security even stronger and assures the uniqueness of each license.

Moreover, on the EDIUS ID Web membership site where you can log in using your EDIUS ID, you can view information about your serial numbers any time. "
Mync can be used with the following products.
Mync Basic
This free version allows use of the Mync file management functions
(downloadable until 06 30 2017)
EDIUS Pro 8
Professional video editing software
(bundled with Mync Standard)
 
Mync Standard
This version adds video editing and file exporting functions to the functions of Mync Basic
EDIUS Workgroup 8
Video editing software for broadcasting (bundled with Mync Standard)
*EDIUS series products include a 30-day trial version(In Japan, it is installed in HDWS, REXCEED and other turnkey systems.)
Installing Mync Basic (creating an EDIUS ID)
Mync Basic can be downloaded from EDIUS ID WEB.
STEP

01
EDIUS ID Web の
Open the EDIUS ID Web login page
Access the EDIUS ID WEB page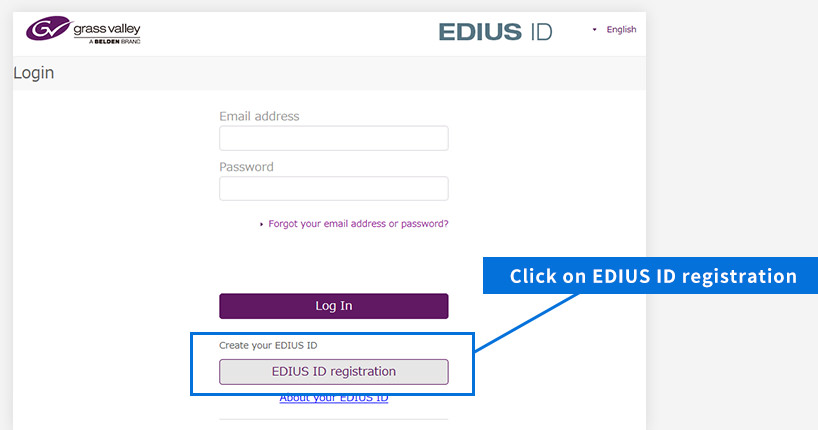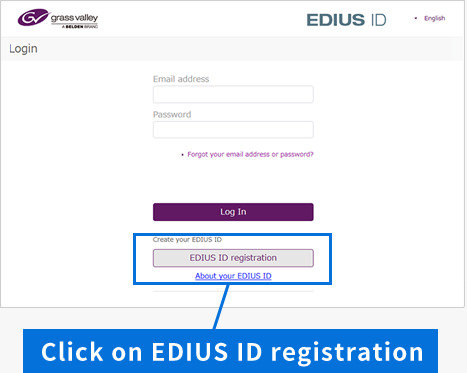 STEP

02
Input the necessary items and
register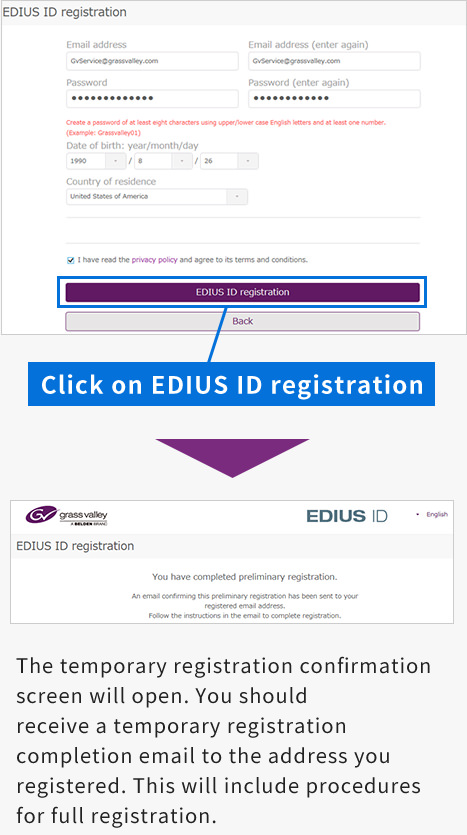 STEP

03
Click the URL
for full registration in the email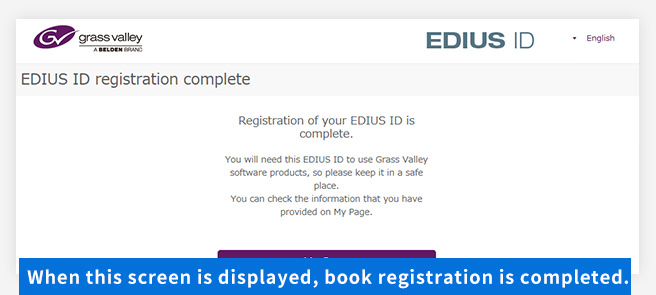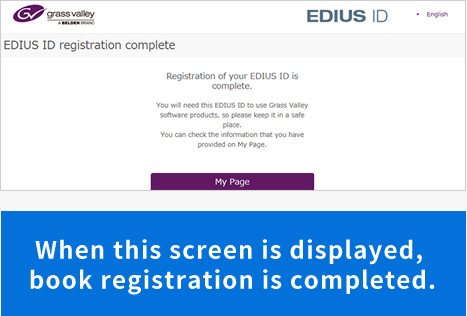 Installation procedures (from downloading to launching)
STEP

01
Download the product
Access the EDIUS ID WEB page and log in. Click the download button to open the download page. "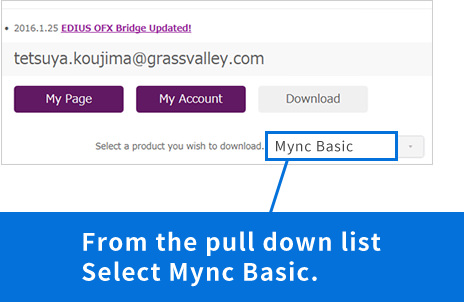 After agreeing to the disclaimers and warnings on the screen, click [Send] to send an email with the subject "[Grass Valley product] download instructions" to the registered email address Open the email, and click the download URL link
■Warning■
Use of this software requires inputting the serial number included in this instruction email.
Be careful not to lose this email.
STEP

02
Install the product
Double-click the downloaded file, and follow the instructions on screen
to install the software.
■Warning■
Log in to Windows with a user account that has administrator privileges. If you are currently logged in with a user account that does not have administrator privileges, log out of Windows and log in again with an account that has administrator privileges. "
Note: Disabling antivirus software might be necessary.
STEP

03
Launch the application,
and input the serial number
Double-click the Mync icon on the desktop.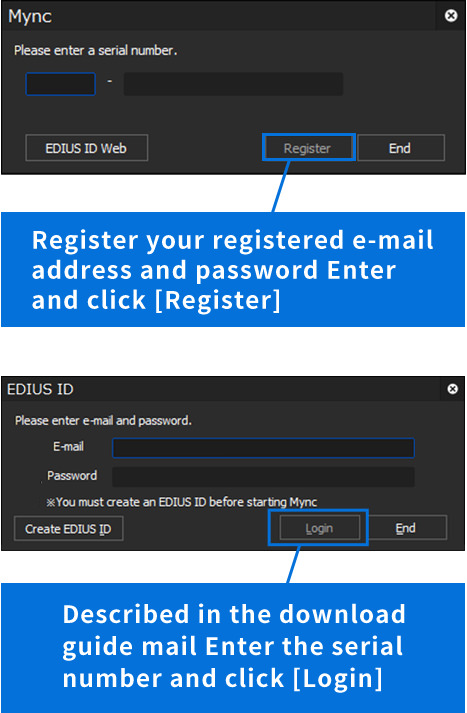 Basic and Standard versions available Download the Basic version free for a limited time!
We have prepared two versions of Mync. The Basic version can be used by a wide range of individual users and the Standard version has advanced functions that enable use even in professional production environments. Right now, the Basic version can be downloaded for free. Please experience the ease-of-use provided by Mync before this offer ends in 06 2017.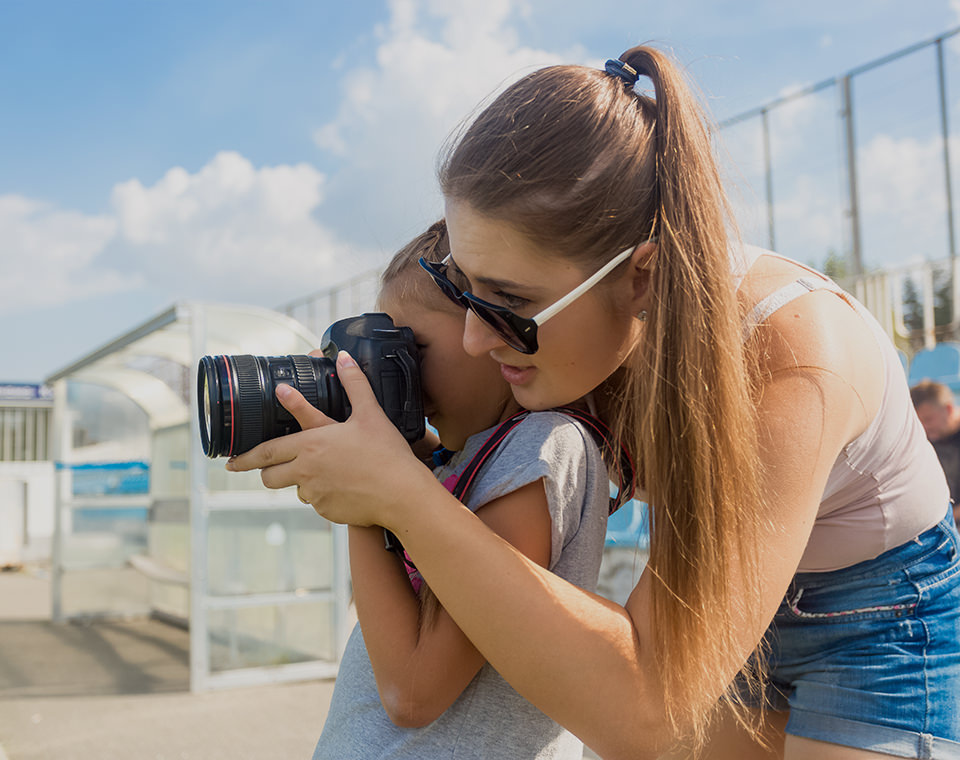 Basic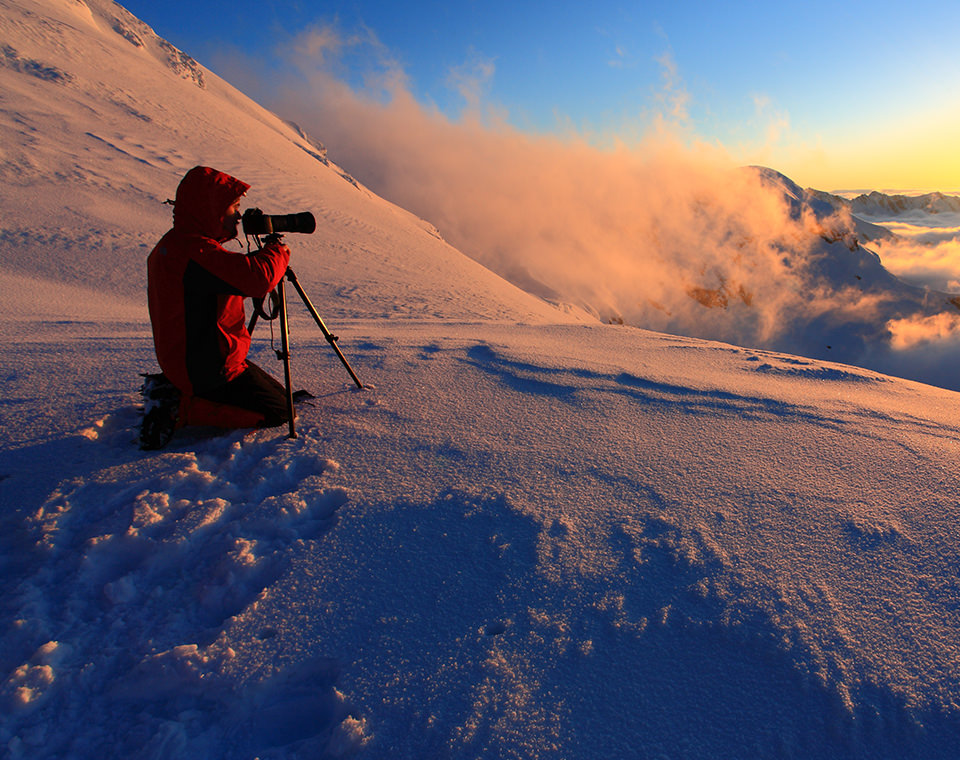 Standard